New CQ Meat Processing Project Begins Accessing $ 24 Million Government Loan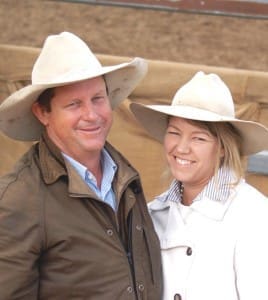 [ad_1]
The ambitious new beef processing project from CENTRAL Queensland beef producers Blair and Josie Angus has received financial close on a $ 24 million loan for the North Australia Infrastructure Facility that will secure the project.
Signature Onfarm of the Angus family has already started to draw on the loan to finance the development of the new greenfield site near Clermont.
Federal government announced that he would provide loan support for the project in September 2019.
Minister of Northern Australia Keith pitt said the NAIF loan would allow Signature Onfarm to build beef processing facilities and employee housing at the site.
"The expansion of these facilities will benefit the central Queensland beef industry and create much needed jobs in the region as Australia recovers from the COVID-19 pandemic," he said.
The Signature Onfarm beef project would create around 200 construction jobs and 70 ongoing jobs once the project is completed, Pitt said.
"The project is developed by the Angus family, industry leaders, and will allow local producers to have access to a slaughterhouse closer to their farm. Central Queensland is known for its premium beef brand and this NAIF milestone will not only help strengthen this brand but continue to grow. "
The project is the first major new processing plant to be built on a virgin site in Queensland since the construction of the Coominya slaughterhouse west of Brisbane in the 1990s.
In addition to processing cattle under the Angus's Signature Beef brand, the new slaughterhouse will give other producers in central Queensland access to a personalized, state-of-the-art slaughter service.
The "store-wide" facility will require export accreditation and will have the capacity to process up to 200 cattle per day when fully operational.
Tailor-made treatment
A hallmark will be a unique degree of customization and specialized processing capability across the plant.
"It is designed to be able to be personalized in its treatment, in particular in the boning room" Josie angus explained to Beef Central when the project was launched in 2019.
"Everything is a cell design, so you can run a different specification on each animal and it doesn't affect the overall productivity of the boning room because it's that cell design.
"It's basically a team of people working on an animal rather than a chain scenario."
Blair angus said the on-farm facility would eliminate the need to transport live cattle between states for specialized processing services some 1,250 km away.
"At Signature Beef, we pride ourselves on our quality, and having the slaughterhouse just 500 meters from the feedlot will improve animal welfare, resulting in a higher quality end product." , said Mr. Angus.
The project will also include the construction of a workers' village for up to 70 employees, including slaughterhouse workers and other support staff.
Angus Pastoral Co is a private fourth generation cattle ranching company that dates back to 1960. From a single farm, the company has grown into a major supplier of beef, operating 35,000 cattle on four properties over 160,000 ha. of breeding country. in central and northern Queensland.
In addition to supplying the domestic market, Angus Pastoral Co has grown international demand for its premium beef products under its Signature brands over the past 13 years, and this understanding of export markets will help plans to business expansion.
Providing service destruction capability for QC growers is a key feature of the new project, and Josie Angus said they believed it would create a healthy environment to have more producer brands operating from there. 'factory.
Deputy Minister for Northern Australia Michelle landry said the project was a great example of how the NAIF has continued to support jobs and economic growth in northern Australia.
"I congratulate the Angus family on their project, which will create jobs and opportunities in central Queensland, while continuing to support a strong and vibrant beef industry," Ms. Landry said.
Ms Angus said the beef industry was a key economic driver for northern Australia and access to local processing was in decline.
"The government's NAIF loan alongside our existing financiers ANZ has enabled us to undertake this project to build a state-of-the-art facility focused on producing high quality beef and maximizing farm income," she declared.
"We welcome the efforts to improve the NAIF to allow more projects in the North to access the facility. The beauty of this fund is that the money can continue to be recycled to generate vital growth in the North.
"We believe that funds like the NAIF are essential in supporting lending in areas that have often been viewed as higher risk," Ms. Angus said.
[ad_2]